Secondary Containment


That's what you get with MayCor Energy Supply Containment Systems. Originally developed for oil and natural gas fields for economic containment purposes, MayCor Containment System is now widely used wherever containment is required:
• Oil and gas business for secondary containment due to Environmental Protection Agency regulations.
• Large petroleum tank farms to increase their existing containment capacity.
• Farms and agribusinesses to meet state and federal containment regulations for various agrochemicals and liquid fertilizers.
• Construction companies and excavators to install temporary soil retention systems at construction sites.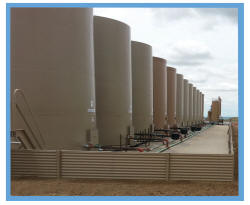 MayCor Containment Systems are not susceptible to wind and water erosion like earthen containments. Plus, the strength and durability of corrugated, galvanized steel provide long-term performance with virtually no maintenance. More economical and weather-resistant than the alternatives, they also offer greater design flexibility. Check these value and reliability features:
• Sidewall coating G-90 over Grade 55, high tensile structural steel for long-lasting performance.
• Modular components assemble quickly for fast installation.
• Bolt-together design offers an endless variety of shapes as well as easy expansion and relocation.

These value-packed features, together with local support and service, make MayCor Containment Systems your first choice.

Meets or exceeds EPA requirements for SPCC ruling on fuel containment.


• Unit comes complete, everything needed for installation.
• MayCor Containment System is designed for simple installation using standard tools.




Dependable
Our steel systems ensure longevity by forming each sidewall sheet with rounded tops and double bolted seams, providing twice the strength while maintaining sidewall shape and failsafe seals. To prevent further leakage when, and if, a spill occurs, our high-grade liners are expertly sealed at each seam.
Time and Cost Savings

First in Industry to develop snap-on Liner Clamps & Drive-in-Posts, which reduces installation cost substantially. New post requires

NO

bolts for installation. Simply drive post in ground and drop on

NEW

post cap.

Above Ground Post
Self Supporting Smaller Footprint Containment System

• Requires no ground penetration and is a perfect alternative for areas where underground systems are not an option.

These systems will leave a smaller footprint than systems using post holes and concrete.


Download Brochure & Flyer


---
Website design by Wyodaily Web Design